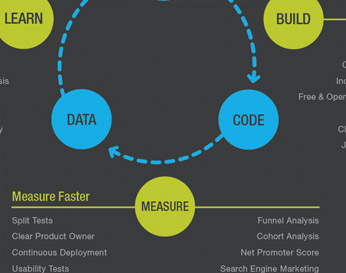 As a result of working on the
Life Profit
project, which encourages individuals to experiment with their mundane, ordinary lives by taking risks, trying new things, helping others, etc. in order to increase the memorable moments you have as an individual. How can we all live a more meaningful life? I have talked previously about the effect Life Profit can have on company culture in my post on
happiness triggers
and my post on
#GivingTuesday
. I am also a big fan of
Tim Ferriss
who describes himself as one who runs experiments in lifestyle design. How can we make ourselves leaner, smarter, happier, healthier, and more profitable? Both Life Profit and Tim though think that experimenting with ourselves is critical to a transformation to a better life. This theme of experimentation has a lot of parallels with the same them in lean startup methodology, which is manifest
build-measure-learn
feedback loop,
innovation accounting
, and
validated learning
principles at the heart of the lean startup theory. Lifestyle scientists and startup theorist can learn a lot from each other and they already are.
Tim Ferriss is actually also a startup investor/advisor
and is one of the top AngelList Syndicates with $1,901,808 raised from 413 approved backers. Here are three vignettes of how running experiments in your day-to-day life, as well as your startup can help you live a more successful, fulfilled life.
1. Tim Ferriss talks about the Harajuku moment in his book The 4-Hour Body. The "Harajuku Moment" is an epiphany turns a nice-to-have into a must-have. The example he gives in the book is of Tech CEO's who come to him and ask him how to lose weight. There is a zero percent success rate, however, because it is only a nice-to-have for them and not a must-have. These founders could have learned from their businesses, however.
Sean Ellis,
argues that if 40% of your users say they would be very disappointed without your product then you have a good chance of growing a sustainable business. Your product needs to address a big enough problem for their audience that they feel lost without your product. Recently, myself and Whitson Gordon from Lifehacker both had a Harajuku Moment in regards to Evernote. We realized how we had been
using Evernote all wrong
and that we were no longer casual users but
depend on it for our day to day life and jobs
. The Harajuku Moment can help you on your journey to become fit and to make your company fit through sustainable growth.
2. In life and work, it is all about data! I have already written some about why we need to have
validated learning and back up and track our experiments with data
in a previous blog post! If you want to deep dive into how to use data to improve your startup you should read the
Lean Analytics
book by
Alistair Croll
and
Ben Yoskovitz
. As they state in the beginning of their work: "Analytics can help [build a better startup]. Measuring something makes you accountable. You're forced to confront inconvenient truths. And you don't spend your life and your money building something nobody wants." If you use good metrics that are quantitative, actionable, reportable, leading, and show causation you can fuel your decision-making process in productive ways. The same can be used when you are diving into personal development. Tim Ferriss tells the story of Chad Fowler, CTO of InfoEther, who was able to lose 70+ pounds in less than 12 months. The number one realization for Chad that led him to keep losing weight and making the right decisions with his health was learning how to use data. Chad counted calories. While Tim has some qualms with calorie counting, he still argues, "tracking even a mediocre variable will help you develop awareness that leads to the right behavioral changes." And isn't this the premise behind companies such as
Fitbit
and the entire
quantified self movement
?
3. Physical health leads to mental health. Richard Branson is known for saying that the biggest secret to his productivity is working out. He says he gets four hours more of productivity each day because he works out. Ev Williams, founder of Blogger, Twitter, and Medium lives by this rule and always tries to
work out when he is feeling least productive
. The endorphin rush and the body operating at its peak level often leads to productive, creative thought. That is why so many people recommend going for a walk in the middle of a brainstorming session. Break up your day with exercise and you will feel healthier, happier and get more done!
At
+Twin Engine Labs
we fancy ourselves as teachers who can help you learn how to experiment properly with your startup or enterprise business. Experimentation and validated learning is invaluable to successful businesses and healthier lives. What is your experience with experimentation in business? How has experimentation helped you live a more productive life? What do you use to track your experiments? Drop us a note in the comments section below!