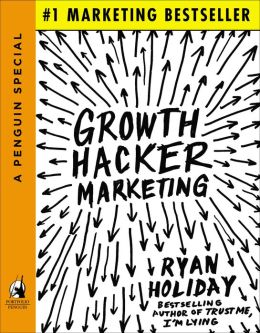 At
Twin Engine Labs
we love staying current with the latest literature and insights from the thought leaders in our market. One of the latest books that we read and discussed amongst our team was
Growth Hacker Marketing: A Primer on the Future of PR, Marketing and Advertising
by
Ryan Holiday
. While we would recommend this book for anyone that owns or operates a business that is trying to grow, this short e-book is especially powerful for marketers. Ryan Holiday, who in the past considered himself a traditional "VP of marketing" character, had an epiphany after reading the work of individuals like
Andrew Chen
and seeing the impressive and non-traditional growth of companies like
Dropbox
,
Airbnb
, and
Instagram
. That epiphany was that traditional marketing is dead and that growth hacking is the way of the future. Ryan begins his book by looking at the history of the term growth hacking and defines some of the core tenets and principles of the growth hacker's job. However, I do not want to go into that here as the issue of what is growth hacking or a growth hacker has been tackled by countless individuals lately. Instead I want to focus on 4 important lessons about
growth hacking
that are prevalent in Ryan's book.
1. Build a product that someone wants
- The actual building of a product is usually something that is considered outside of a marketer's purview. Ryan Holiday argues persuasively that this is no longer the case. The new growth hacker marketer is an integral part of the engineering and design process and is responsible for helping the team achieve
product/market fit
. Ryan writes, "[T]he best marketing decision you can make is to have a product or business that fulfills a real and compelling need for a real and defined group of people -- no matter how much tweaking or refining this takes." Traditional marketing has always relied on the assumption that the marketer's job is to market the product they have. This is no longer the case. If the marketing professional is gathering insights and data into the customer base that are relevant to the product, just as Instagram did when they realized that users of their first app Burbn were only using the photos and filters portion, then that data should be used to iterate and
pivot
on the product's
core value proposition
until your team has achieved product/market fit. As Ryan states forcefully, "Isolating who your customers are, figuring out their needs, designing a product that will blow their minds -- these are marketing decision, not just development and design choices." How can marketers do all this? One clear cut example is blogging. By blogging about information that is relevant to your target audience, you can gain insights into what topics are most relevant to them, what problems they are facing and need a solution to, and how they are addressing their issues today. This is powerful data that can influence features, pivots, and the overall direction of your product. Another way is for the marketer to drive product development by continually forcing their team to ask
5 whys
every time you make a business decision for the product or by asking customers for feedback using survey tools like
SurveyMonkey
,
Wufoo
, or
Google Forms
. All of these efforts have one goal in mind - building something that customers need and want.
2. Pull the Right Customers In
- Growth hacking, like traditional marketing, is focused on pulling customers into the product but unlike traditional marketing it seeks to do so in the cheapest, most efficient, and unique way. And more importantly, it focused on the right customers, the target market's
early adopters
. Marketing is no longer about huge publicity stunts, blowout launches or reaching millions of people with a single ad. Growth hacking is about reaching the people that actually care about your product and using
viral loops
to build an audience from there. One example Ryan gives is of Dropbox, who created a homemade video explaining their product and then distributed it to Digg, Slashdot, and Reddit because they knew that the audience of these communities would get excited about the product. The messaging they used in the video was full of allusions and references that resonated with those communities. The rest is history. Find your early adopters and reach out to them via email, posts on forums, blogging, Kickstarter, or via reporting channels they follow. The goal of the growth hacker is not to build awareness of a service but to drive sign ups to the service!!
3. Build Viral Loops
- People assume that virality is just based on asking customers to share your product or some magical process by which a piece of content rapidly and contagiously spreads. Making something go viral, however, takes a lot of practice and work and it is the growth hackers job to do this. Growth hackers begin to do this by asking questions such as: Why should customers share the product? Is it easy to share? Why is the product worth talking about? There are a few ways the growth hacker can help a company make viral content. First, ensure that what you're talking about or building matters to the audience you are targeting. Good content and a good product are the first step to making something viral.
Make something worth sharing
. Second, asking someone to help a product go viral is asking them to spend their social capital doing so. Therefore, you have to make your customers feel that it is worth doing. One way to do this is by rewarding customers for sharing your content. Dropbox gives free, extra space and
Groupon
and
LivingSocial
pay their customers with free deals or discounts if they share and friends take advantage of the offer. This builds in advertising to your product and also increases the stickiness of the product with your current customers because they are a part of the process. Therefore viral loops are not just about adding social sharing functionality to your product. As Ryan states, "If you want to go viral, it must be baked into your product. There must be a reason to share it and the means to do so."
4. Stickiness is a priority, optimize for retention
- A traditional marketer generally considers it their job to get people to the product and someone else's job to figure out what to do with the customer after that. The growth hacker's job after pulling the right customers to the platform is to focus on creating lifelong users. This means focusing on the
sticky engine of growth
, as coined by
Eric Ries
. Ryan gives the example of
Twitter
and
Josh Elman's
growth hack of making users manually follow 5 people relevant to them. By looking at data around Twitter's early usage, Elman found that while people were signing up for Twitter in droves, they only stuck around or came back if they manually followed at least 5 people. This was because they discovered through engagement with the product that following people was the key to Twitter's usefulness. The second point Ryan makes here that is incredibly important is that the only way to improve customer retention is to ruthlessly focus on optimizing your product. This means taking the data and analytics you gather on what your customers are doing and finding ways to make it better. Growth hacking helps you maximize ROI by focusing on getting more out of your existing customers. Ryan gives us these fantastic statistics that support this assumption, "According to Bain & Company, a 5 percent increase in customer retention can mean a 30 percent increase in profitability for the company. And according to Market Metrics, the probability of selling to an existing customer is 60-70 percent, while to a new prospect it's just 5-20 percent."
We hope you have enjoyed the insights of Ryan Holiday's Growth Hacker Marketing as much as we did but more importantly we hope you go out and grab yourself a copy of this short and cheap ebook. It will be $3 well spent.
+Twin Engine Labs
will seek to continually experiment, improve, and iterate its own products and services by implementing these valuable growth hacking principles and we encourage you to do so too. Together we can make better, more scalable products. A new era of marketing is here and it is focused on growth.